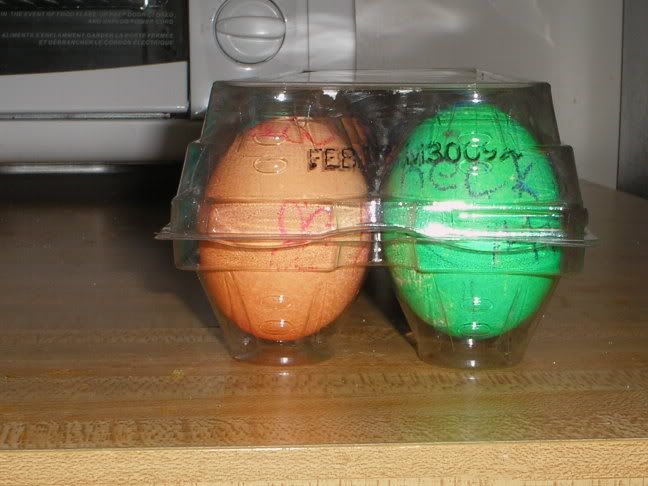 Some of you may know that my expired egg quirkiness recently landed me a coveted spot as a finalist in Lynn's super spectacular quirky acts contest. In case you are too lazy to point and click at any of those spiffy links I just gave you (come on, go and give Lynn some love!), this was my submission:
"I gave CheckMate a carton of expired eggs as a gift about a month ago. Yesterday, I asked him if I could babysit them for the next two weeks while he's on vacation."
Now, some of you may be wondering why the hell I would think expired eggs were an acceptable gift at the very beginning of a relationship, if ever. That is why I give you Savia and CheckMate's relationship thus far, as told through expired eggs:
I
Before we officially started dating, we had these long, animated phone conversations where we would talk about everything under the sun. We got on the topic of eating dubious things out of the fridge, something we are both guilty of. For some reason, I started talking about eggs:
Savia: The best thing about eggs is that they don't really go bad. They have an expiry date on them, but that doesn't really mean anything. You just crack them, and if they don't smell bad, you're good.
CheckMate: Uh, Savia... there's this thing, called botulism... and you can't smell it.
Savia: [feeling like an idiot] Oh.
II
The day after our first official date, when we kissed for the first time.
The phone rings.
Savia: Hello?
CheckMate: I was taking an expired egg out of the fridge, and I thought of you.
I decided to take that as a compliment.
III
Two days later, I knew he was at rehearsal, and I left this message on his machine:
Savia: The expired eggs in my fridge are mocking me. I have a full carton that have never been touched, but now that you've told me about this botulism thing, I can't eat them. But I can't throw them away either, because that would be wasting food and my mom taught me not to do that. So, they're just sitting there, mocking me. And it's all your fault!
IV
CheckMate sends out a party invitation that reads:
Bring your favourite beverage! Your favourite tunes! Your favourite musical instrument! Your favourite person! Your favourite flightless bird!
Little did he know that I take party invitations very literally. I found each of those things he requested (FYI, I wore my saucy nickname shirt to show that I was my own favourite person) and for the flightless bird, I handed him the carton of expired eggs that had been mocking me for the past few weeks. He laughed his ass off and put them in his fridge.
V
A few weeks later, I made some comment about the expired eggs. He was strangely silent.
Savia: What?
CheckMate: I threw the eggs away.
Savia: [overdramatically, and with much feigned distress] How could you! Those eggs symbolized our entire relationship, and now they're gone... gone... [fake sob]
I must admit I was a bit disappointed that he had thrown the eggs away. In my twisted imagination, I had invented a narrative around the eggs, how they would become our "thing", a little internal joke between the two of us. We would find ways to pass them back and forth, sneaking them into each other's fridges, one-upping each other with our cleverness. And then, I thought, "Well, of course he threw them out - you gave him fucking expired eggs. Who does that?? Maybe he's the kind of guy who, I don't know, actually cleans his fridge once in awhile! That's probably a good thing, you freak!"
And so, I let the dream of the expired eggs die. Until...
VI
A phone call about a week later:
CheckMate: The eggs are back in my fridge.
Savia: What? But you threw them out. How is that possible?
CheckMate: Well, I thought I had thrown them out. But sometimes, I leave my garbage by the door for awhile before taking it out. When I went today, I saw that they were sitting there. They've been there for five days. I was kind of happy to see them. I felt bad throwing them away because they were a gift from you. I mean, they were a weird gift, but they were still a gift, you know?
Savia: Oh my god, I am so happy!
VII
And that brings us up to my submission to Lynn's contest. CheckMate is on vacation right now, and before he left, I asked him to give me the eggs to take care of while he's away. And he gave them, without a single question, because I guess he's used to my strange requests by now. But what he didn't realize is that this particular request had a hidden motive.
I was feeling festive. So I wrote some of our favourite words on the eggs in crayon and dyed them.
Aren't they pretty?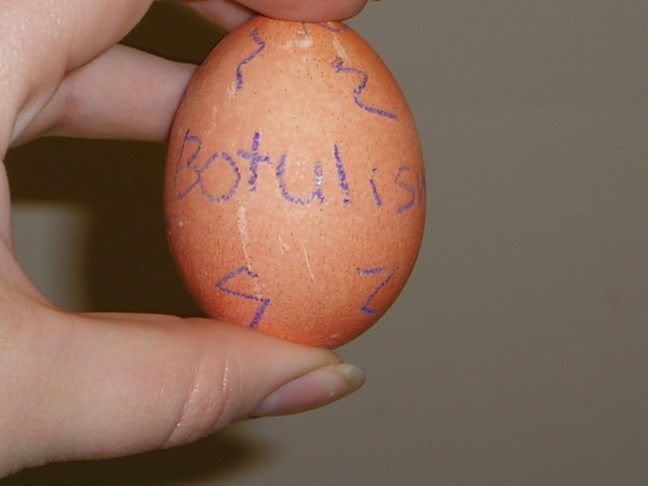 Botulism: the word that started it all.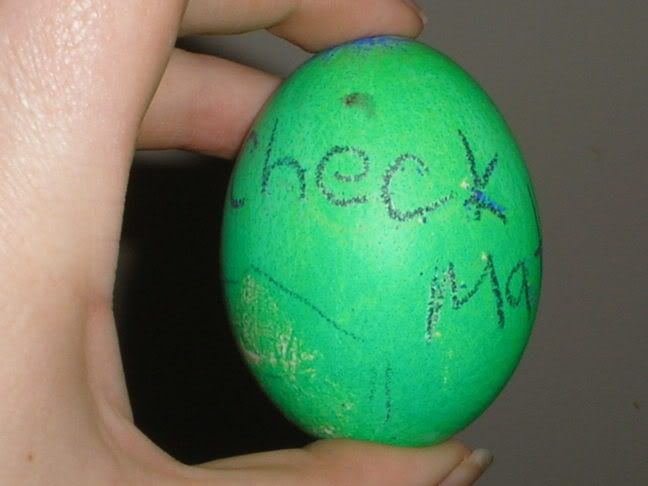 Both CheckMate and Saviabella got their own eggs.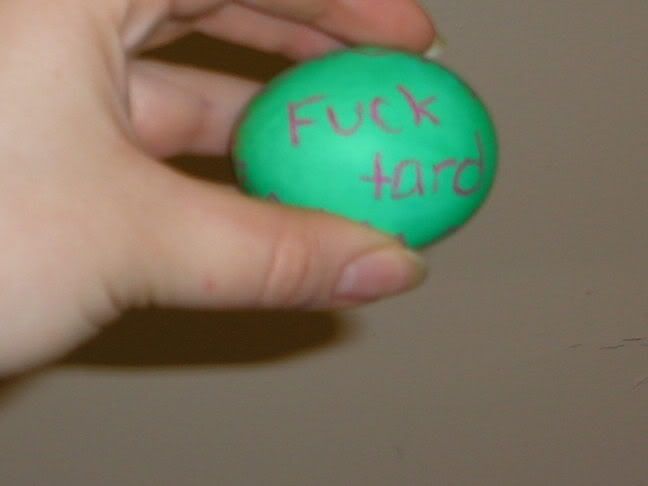 I never thought I'd be writing "fucktard" on an egg with crayon.
If you look at the photo of the entire carton, you'll notice that one of the eggs looks a little different from the rest (one of these things is not like the other...). This is because one of the eggs was cracked and couldn't be salvaged. So, I put a hollow plastic egg in its place. Inside, I put three pieces of paper: a passage from Middlemarch by George Eliot (we fell for each other over discussions of this book), a quote from the play he was recently in, and my favourite Katherine Mansfield quote, which has become my personal mantra: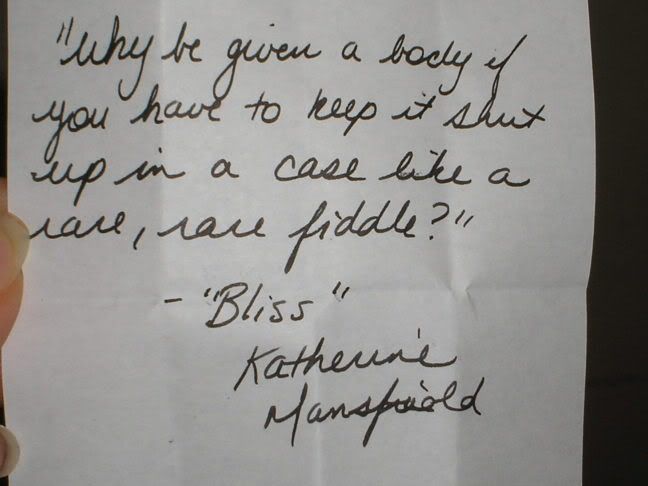 He comes back on Saturday. I'll let you know how it goes.
Oh, and yes, I am aware that this egg fetish can be read as some sort of fertility symbolism, and I'm sure Freud would have a lot to say about it, but I'm quite happy living in denial, so please be kind and not mention it.