I received an email from a friend the other day that began, "I have a little proposition for you..." Apparently, she's having a festive party and wants me to dance as part of the evening's entertainment.
Once I read that, I immediately started hyperventilating and stuck my head between my knees. Okay, bellydancing in front of a bunch of strangers on a stage is one thing. Dancing half-naked in front of my friends - in a word: Aaaaaaghhhh!
No one I know has seen me dance yet. It's more than a little intimidating. I think what's hard about it is that when you're on a stage, in whatever role, you play a character. Strangers don't know who you really are - they can believe the illusion without much effort. Your friends, though - they know it's an act, so you have to work even harder to get them to buy into it. And you care what they think - you want them to like it. You want to make sure it's perfect; you want them to be proud of you. And that's the intimidating part - not so much that they'll judge you, but the fact that you'll judge yourself on their behalf.
As I was sitting there, head between my knees, almost passing out at the prospect of the half-naked friend lap dance gig, I remembered, oh, yeah. Year of fearlessness. Fuck. Well, I've got to do it. Made a promise on my blog. Gotta be accountable to the readers.
(Hi guys! This is what happens when you open up your life to the Internets - you have to be accountable and all that crap. Motherfucker. What was I thinking?)
So, I did what any fearless girl would. I emailed my friend and told her I'd do it. Then I put my head back between my knees for awhile because I felt dizzy. And after that, I bought a red bra (seemed festive to me) and some sequins, and I made this: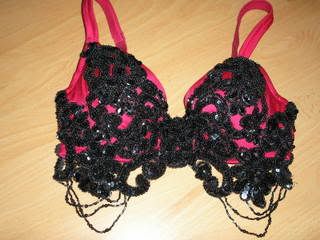 And...uh...that's my costume. Yup...that's what I'm going to wear, I am.
So, I'm thinking - body image issues? Pretty much over. Or they're going to have to be, because I'm going to shake what the good dude gave me. And it's going to rock.


Everybody dance now!